Hey all, had a few minutes today and wanted to post directions to opsite we have dubbed 'The Santa Rita Battle Grounds'. This is the site we are trying to get a permit from the National Forest Service for as our precedent to use some ground on Mt.Lemmon.
The Sat. maps dont do it much justice, the height is above 5,000 feet and is considerably cooler as well as offers low hills that obscure movement but dont push much of a climb (5 or 6 strides and your on the crest).
Feel free to check the place out but please hold off playing on the grounds until we get the paperwork back from the forest service (dont want to to stomp any toes)
Directions: Take I-10 south by south east. Exit at Sonoita Highway (AZ83) and head south. After about 15-20 miles you'll come to Greaterville, turn right onto Greaterville road. Follow Greaterville Rd approximately 4 miles and turn slight right onto E Box Canyon Road (Sign actually calls it Madera Canyon though so watch for the sign). Follow Box Canyon road approximately 2 miles then turn right at the sign for the OHV stand. The staging area is behind the OHV stand up and the opsite just slightly north of that.
Travel Time: TBD (estimating it took me about 45 minutes from I-10/I-19 junction)
High Level Street Map Showing Route: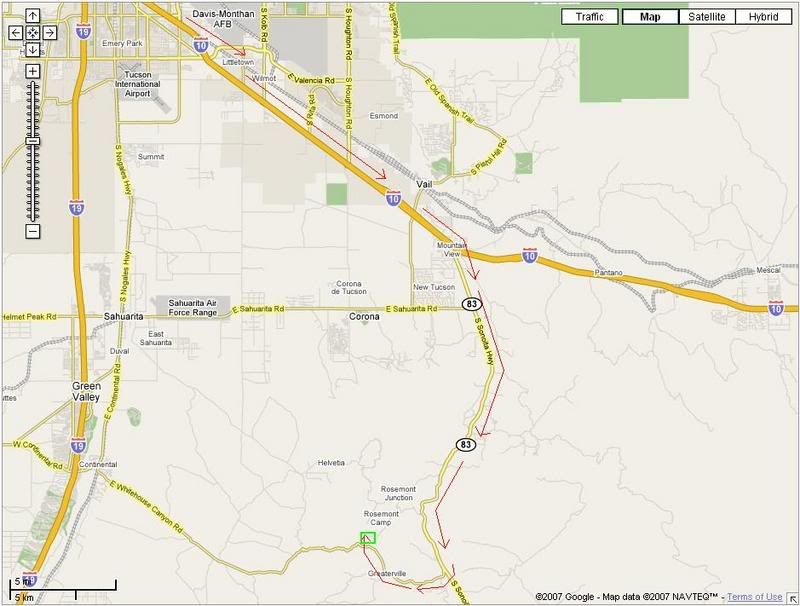 Low Level Sat. Map of the Op area and red X showing the staging/parking area:
Some photos of the site (courtesy of bio):